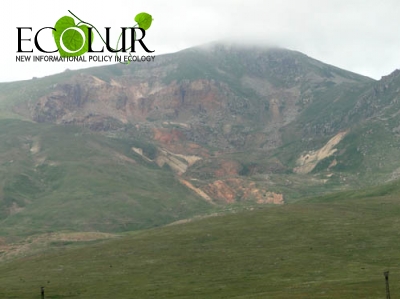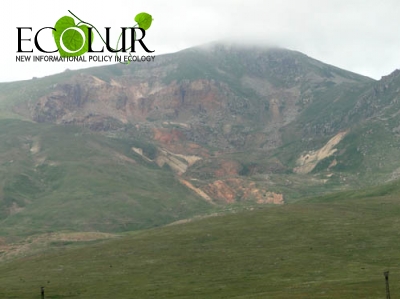 EcoLur
New violations of the Armenian legislation in case of Amulsar gold mining project have been detected, as Environmental Lawyer Nazeli Vardanyan, Chairman of "Forests of Armenia" NGO said during the meeting with CEE Bankwatch Network representatives.
"Impact on human health hasn't been assessed at all during the expertise," Nazeli Vardanyan mentioned, "RA Law "On Environmental Impact Expert Assessment" says that the opinion of all stakeholder ministries is a must in issuing an expert opinion. We have made an enquiry to the Health Ministry and received a response that Health Ministry hasn't been involved in this process and they haven't been asked their opinion about this project. It means that the project impact on human health hasn't been assessed during the expertise, so the latter is unlawful." According to Nazeli Vardanyan, Amulsar mine is located in a distance of 7 km from Jermuk resort. The Water Code of Armenia contains provisions on the conservation of Jermuk and mineral waters, which say no mining or economic activities can be implemented near the springs which contain mineral water so as not to pollute them and lose them because of explosions. For this purposes three sanitary zones for the conservation of mineral waters have been laid down: the third zone is located at the 50th km, near Amulsar. As a matter of fact, Amulsar mine will appear in the 2nd zone, where any plant or economic activities are banned, which will cause damage to nature.
Violation of RA Law "On Preservation of Atmospheric Air": "Besides Jermuk, there are 4-5 communities located in a distance of 3-4 km, and their orchards are located even nearer, and some orchards are located in this area. The whole dust of all explosions will sit on these orchards and make the products produced by the villagers non-useful thus violating RA Law "On Preservation of Atmospheric Air" (Article 31, Chapter 9), which says that mining is banned in residential areas," the expert lawyer said.
Nazeli Vardanyan once again outlined that the communities in Jermuk and Sevan basin haven't been recognized as project affected communities, "Jermuk hasn't been recognized as a project affected community, which is the largest community in the area and public hearings haven't been held in Jermuk, which is a violation of RA Law "On Environmental Impact Assessment and Expertise". During our discussions the Nature Protection Ministry representative stated that we recognized the whole region as an affected community, but the law doesn't lay down the recognition of a whole region, but a community. According to RA Law "On Environmental Impact Assessment and Expertise", the project affected community is the community, which will bear the negative impact of the activities. Given this definition, we think not only Jermuk should have been included as a project affected community and public hearings should have been held, but also the communities in Lake Sevan basin should have been involved, as the will incur the damage: Arpa water flows to Sevan." Nazeli Vardanyan also listed the violations of other laws – violation of RA Law "On Lake Sevan": "Amulsar area is located between Kechut and Spandaryan reservoirs. The water for the mine shall be taken from the Arpa River. Kechut and Spandaryan reservoirs and the Arpa River are located in the drainage basin of Lake Sevan. We have RA Law "On Lake Sevan", which says that mining or any economic activity to adversely affect on Lake Sevan must be banned. Thus, RA Law "On Lake Sevan" has been violated here and the first time when they applied to Lake Sevan committee, they were issued a negative opinion. Second time they distorted some data and received a positive opinion of the committee with certain conditions."
Violation of RA Subsoil Code, Laws "On Flora" and "On Fauna". "Laws "On Flora" and "On Fauna" have been violated, as both laws state that any mining shall be banned if the area has red-listed species. Article 26 of RA Subsoil Code has also been violated… RA Subsoil Code also says, if the area contains historical and cultural monuments, mining is banned. We have data received from Culture Ministry and other organization, this area contains cemeteries and fields protected by the state."
November 03, 2015 at 12:42