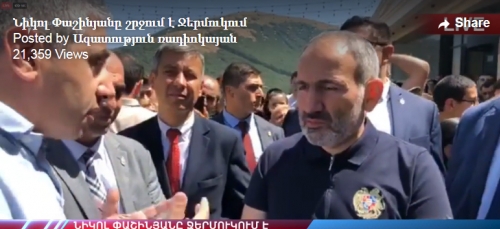 EcoLur
Today, Prime Minister Nikol Pashinyan, who travelled to Jermuk resort town, was presented information on the risks of the Amulsar project for 2012-2014 by Edgar Ghazaryan, Ex Vayots Dzor Governor, Chief of Staff of RA Constitutional Court.
Edgar Ghazaryan.
-The gold extraction plant was intended to be in Gorayk, in the Spandaryan reservoir. At that time we demanded and the President of the republic turned to them, they changed all their logistics schemes and brought the plant down from Gndevaz under the Kechut Reservoir. Now that you are rightly saying that water will not be harmed, it happened after those changes..
Nikol Pashinyan.
- Wait a minute, was there a change in the design?
Edgar Ghazaryan.
- Yes
Nikol Pashinyan.
- After the EIA?
Edgar Ghazaryan.
- Yes,
Nikol Pashinyan.
- There has been a change since the EIA, but how has that change been fixed?
Edgar Ghazaryan.
- It is
fixed. They had the right to exploit it, but it was late because of the fact that they had to make changes to the projects. But that is the problem of impact on the waters alone. This mine has other problems with it. The mine can only be operated objectively during the summer months, because winter will be metered by snow. Mine operation means 10 to 25 explosions a day. About 25 tons of dust will rise from each blast. Whatever expert conclusion they try to make, it is unlikely that this dust won't affect this city.
Nikol Pashinyan.
- As I have said publicly, there can be one factor in all of this: the balanced interest of the Republic of Armenia, there is no other factor.
13:48 August 23, 2019