EcoLur
EcoLur is presenting the issues raised and proposals made by the representatives of mining-impacted communities in the course of the working discussion entitled "Mining-Impacted Communities - Full Participants of EITI Process" held in Yerevan on 29 October, as well as the positions of the government and civil society representatives towards them.
Sona Ayvazyan, Director of Transparency International Anti-Corruption Center, a member of EITI Multi-stakeholder Group (MSG), said in her speech: "We have been implementing 'Engaged Citizenry for Responsible Governance' project with the support of USAID for several years. The philosophy of this program is that we can never have responsible governance if we do not have a sufficiently engaged, participatory, informed and demanding society. Opinions and suggestions voiced during today's discussion will help the government and relevant government agencies address the issues raised by you. I hope that as a result we will have suggestions for some reforms."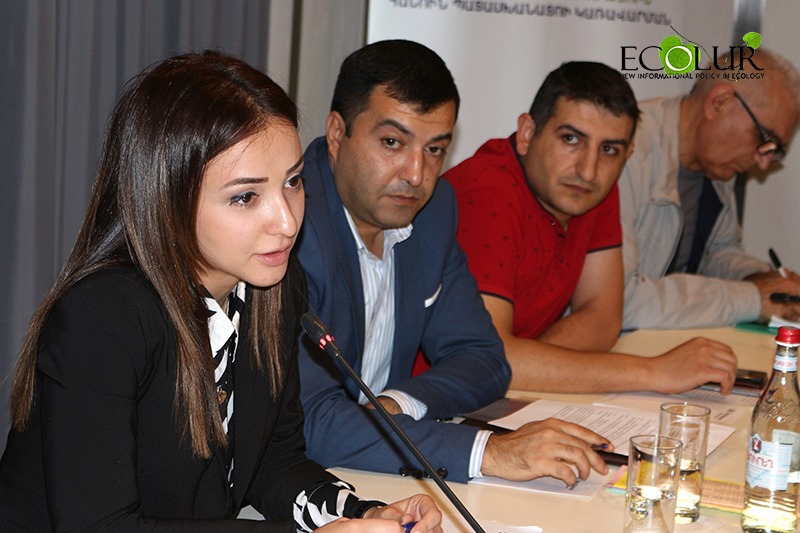 In her opening remarks, Deputy Minister of Territorial Administration and Infrastructure of the Republic of Armenia, a member of EITI Multi-stakeholder Group (MSG), Lilia Shushanyan said: "Prior to the EITI, different groups - civil society, government and business - have always expanded their activities in each direction. But as the three groups sat at the same table, a constructive discussion was organized. We tried to understand together what solutions are needed, and in the future each of us will realize our responsibility to the extent of our own efforts in this common endeavor."
Inga Zarafyan, President of EcoLur Informational NGO, EITI Multi-stakeholder Group (MSG), said: "I attach great importance to the participation of community residents whose voices we often do not hear or very few hear. I want it to be heard by many, and we will receive appropriate response as the new government is ready to work with communities and the people, to listen to them."
Lori Region, Oleg Dulgaryan, President of Community Mobilization and Support Center NGO: "There are communities that receive environmental subsidies, and community heads have difficulties with their distribution. Following the enlargement of the communities, the mining-affected settlements constitute a minority."
Syunik Region, Boris Sargsyan, a member of Kapan initiative: "The most hidden part in mining is concentrates, their contents. I propose to open this data for further development of the EITI process. There is also a serious problem with the percentage of concentrate in terms of the percentage of these minerals are transported. Mining companies pay fewer taxes if they do not show the percentage of the ore, which causes damage to nature, communities and the amount of money used for environmental projects. Often these programs do not meet the actual purpose. It is desirable that the fixed taxes paid by the mining companies to the state be returned to the affected communities."
Ararat Region, Anahit Matevosyan, a member of "Armash Rural Community Development and Support Center" NGO, "The cyanic tailings dam of the Ararat Gold Factory affects the Kakhanov water pipe, which is used by Armash, Surenavan, Yeraskhavan, Paruyr Sevak, Ararat villages and Ararat town. Near the tailing dump there are about 25 fish ponds that also use the water. Our demand is to include these communities among the affected communities in order to implement relevant environmental programs."
Lori Region, Raya Melkonyan, a resident of Teghut settlement of Shnogh village: "Teghout CJSC is not included in RA Law 'On Targeted Use of Environmental Taxes Payable by Companies', as a result of which Shnogh enlarged community, as an affected community, does not receive any environmental funds, whereas the land areas of Teghout and Shnogh are mainly for mining purposes. And we all know that, recognizing the eminent domain, the residents of the community were deprived of their land areas.'
Gegharkunik Region, Anahit Gevorgyan, President of Martuni Community Women's Council NGO: "Mining communities in Armenia today must be so developed that they are brought as examples. Schools, kindergartens, employment should not be a problem for that community because it already has that wealth.
The mining industry needs development, there is no problem, but as it is considered to be a large profitable sector, the largest amounts of money should be directed to eliminating the negative consequences.'
Response to speeches by Deputy Minister of Territorial Administration and Infrastructures of the Republic of Armenia Lilia Shushanyan: "It is a complicated issue for Alaverdi and should be discussed later in policy development." What about RA Law 'On Targeted Use of Environmental Taxes Payable by Companies':
"Today, we have raised the issue within the EITI that noting the names of some companies in RA Law 'On Targeted Use of Environmental Taxes Payable by Companies', yes, we are showing a discriminatory attitude. The Ministry of Territorial Administration and Infrastructures has drafted a draft law and has put it into circulation. The draft proposes that all metal mining companies shall be included in the law."
Ashot Giloyan, Head of Department of Local Government Policy of Ministry of Territorial Administration and Infrastructures: "We must try to solve this issue legally. The notion of an impacted community is far more influential and widespread in terms of environmental and metallic mining."
Azganush Drnoyan, Director of Environmental Impact Expertise Center SNCO: "We are legally recognizing the community as the impacted, and now I think when we review the law, we have to clearly differentiate between the community-residential area and the size and extent of its engagement."
Karine Danielyan, President of Association for Sustainable Human Development: "We are in a state of emergency, in a disaster. The 23 tailings dams that do not comply with any standards cover the country like cancer. Births with deviations and cancer cases arise in Lori and Syunik the most. We have been raising these questions for a long time, unfortunately, the authorities are not listening. In addition to having a direct negative impact on the environment and health, today's metal mining is cutting off agriculture and tourism development. An ad hoc committee with the involvement of independent interdepartmental experts, specialists from different fields should be urgently established and understand what urgent measures need to be taken. If it goes on like this, Armenia will not have a place to live in two decades, we will have only environmental refugees."
Arthur Hambardzumyan, a representative of Citizen's Voice NGO, Alternative Member of the EITI MSG: "We talk about damages, pollution, how we distribute money, we talk about diseases. But there was no word on preventing pollution, assessing the causes of today's situation, targeting and removing them. I propose that we set the priority of not allowing or preventing issues."
To be continued
This material has been prepared within "Mining-Impacted Communities – Full Participants in EITI Process'" project implemented by EcoLur with the USAID support within the frames of "Engaged Citizenry for Responsible Governance" project implemented by Transparency International Anticorruption Center.
This article is made possible by the generous support of the American People through the United States Agency for International Development (USAID). The contents of this article are the sole responsibility of the authors and do not necessarily reflect the views of USAID or the United States Government.
November 11, 2019 at 17:04