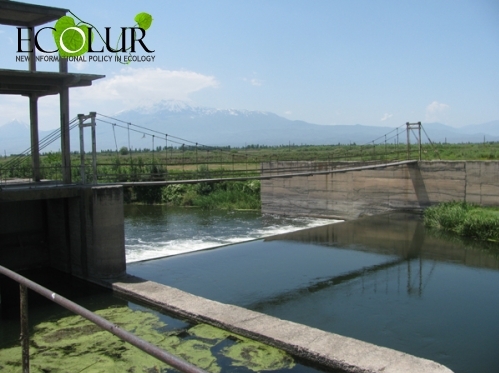 Water Commitee of RA MEINR

Over the recent 15 years, the water intake through drilled wells in Ararat Valley has made up around 55 cum/s, which exceeded the average water amount by about 21 cum/s or 650 million cum/year.

Out of 55 cum/s, 25 cum/s or 1100 million cum/s made up the water intake for fish breeding. The permissible limit of the water intake for fish farms shouldn't exceed 12 cum/s, while the water intake is by 23 cum/s more than the statutory one, which, on an annual basis, makes up around 720 million cum/y.

Over 15 years as a result of the merciless use of groundwater by fish farms, the current of the Sevjur water currently makes up maximum 0.5 cum/s, in the case when in 1991-1992 it made up 20-22 cum/s and 8-10 cum/s up to 2004. As of the inventory of 1983, the areas with a positive pressure of drilled wells made up 32.7 thousand ha in 44 communities, while this figure was 13 communities with 10.2 ha thousand area in 2013. By 2000 over 90 million cum water had been pumped into Lower-Hrazdan Tunnel with the help of Arevshat and Ranchpar pumping station from the Sevjur River by 2000 and only 5-10 million cum water from Lake Sevan was used. Since 2004 because of the absence of river yields, Arevshat pumping station hasn't been operated, while only 8 million cum water was pumped into Lower-Hrazdan Tunnel with the help of Ranchpar pumping station in 2017 and around 80 million cum water was used from Lake Sevan.

The irrigation of over 1500 ha of land areas around Zartonq, Artashar, Yeghegnut, Yeraskhahun and Vardanashen communities in Armavir region is extremely jeopardized and it's an urgent task to drill 12 wells and to recover 12 more deep wells. These works can't be carried because of the absence of the required sum of 665.8 million AMD.
19:53 July 30, 2018