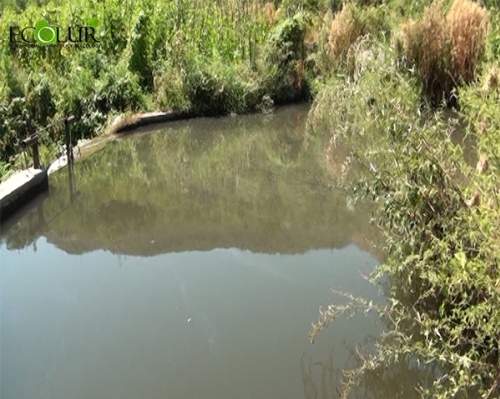 EcoLur
In the frames of "Supporting New Reforms in SHPP Sector through CSO-Government Dialogue" project, the expert group visited "V.A.L." SHPP which is located in the administrative area of Goris Community, Syunik Region, Armenia. The SHPP is constructed on the Vararak (Goris) River, the length of which is 29 km. "V.A.L." SHPP is operated by "V.A.L. Energo" LLC.
"V.A.L." SHPP operated by "V.A.L. Energo" LLC has low economic efficiency. The SHPP hyroenergetic equipment has low technical efficiency. Because of the low pressure in the used river section the SHPP can't use the hydro-energetic potential of the river. There are large incompliances between the factual and projected hydroenergetic data, hydroeconomic estimates were made wrong as a result of which instead of 1.0 cum/s water amount set in the water usage permit, a maximum of 0.1 cum/s water amount is used ensuring 60 kW projected capacity instead of 200 kW. Irrigation water requirements and irrigation regimes haven't been taken into consideration. The SHPP can't operate during the floods. The fish passway is missing, the environmental flow in the river is ensured through the water outlet constructed in the lower part of the dam. The operation of such a SHPP is not expedient in technical and economic terms. 'Vararakn' and 'V.A.L.' SHPPs are of cascade type. The environmental flow of the Vararakn (Goris) river was ensured in the water intake of 'Vararakn' SHPP, which also doesn't have a fish passway.
Proposals:
1. 'V.A.L.' SHPP needs thorough reconstruction and re-equipment.
2. Hydroeconomic estimates should be reviewed taking into consideration irrigation water amounts and irrigation regime. SHPP operation regime should be set beyond irrigation season.
3. To reconstruct the water intake on the river and to construct a fish passway in line with the normatives, which will ensure normal operation and sufficient conditions irregardless of the SHPP water intake and use regime for the primary maintenance of the environmental flow and reliable flow of the fish.
4. To have water-meter equipment for online data transmission sealed by the competent body of RA Nature Protection Ministry in the head section, through which the online transmission data will be ensured, as well as the water amount used by the SHPP and control and supervision of the environmental flow.
5. To re-equip the SHPP with the aggregates having more technical efficiency, which will work with less water amount.
6. To equip the entrance of the pipeline with a cellular net to prevent the flow-in of the young fish.
7. To equip the transformer with an oil-collecting system.
The material was developed in the frames of "Supporting new reforms in SHPP sector through CSO-government dialogue" supported by UNDP/GEF Small Grants Programme".
14:32 February 01, 2018