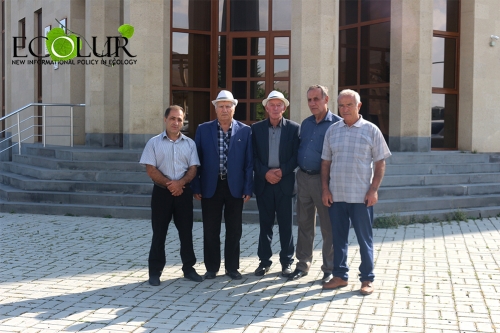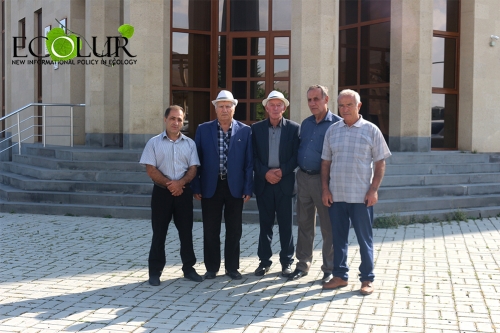 EcoLur
The residents of Astgadzo have appealed to court to restore their violated rights to water. The residents of Astghadzor community, Gegharkunik Region, have been deprived of their main source of drinking and irrigation water - Astghadzor River. The riverbed entering the community has almost dried up, the water has been completely relocated to neighboring Zolakar community as a result of "Communities Agricultural Resource Management and Competitiveness" and "Support to Infrastructures and Rural Financing Projects".
In Astghadzor, a group of Astghadzor residents, aiming to resolve the problem and restore their rights to water, on October 14, 2018, sent a letter to RA Prosecutor General Artur Davtyan. "There were criminal elements in the case - corruption, violation of the law," said Astghadzor resident and protester Vardan Grigoryan in an interview with EcoLur. After applying to the prosecutor, materials were prepared in Martuni Police Department of the Republic of Armenia, which were left unanswered by the police opinion. Astghadzor residents again appealed to RA Prosecutor General Arthur Davtyan in June.
"On June 9, Inspector R. Musheghyan again rejected the criminal case on the grounds of lack of corpus delicti. On June 21, we appealed against the decision of Musheghyan to Prosecutor of Gegharkunik Region Rafael Yeritsyan. Prosecutor Rafael Yeritsyan rejected our appeal on July 5, 2019, which within a month, on August 10, we again appealed to court. Yeritsyan made the decision on July 5, Constitution Day, which is a non-working day. That decision was made illegally. We have also filed an appeal to court with a demand to review Inspector R. Musheghyan's decision. We appealed for a criminal case to be instituted. We think there are some features of crime here," Vardan Grigoryan said.
After the last appeal, the first court hearing in this case was scheduled for August 23, and the Astghadzor residents received a notice three days later, on August 26. Naturally, the trial was not held. Together with Vardan Grigoryan, 4 more residents of Astghadzor, Aramayis Asatryan, Surik Petrosyan, Vazgen Minasyan and Vardges Setrakyan, have filed a complaint.
On September 4, the Court of First Instance of Gegharkunik Region had to consider the appeal of the residents of Astghadzor community against the decision of July 5 of Prosecutor of Gegharkunik Region 2019 and the decision of the Investigator of Martuni Police Investigation Department of RA Police Musheghyan to dismiss the criminal case made on 9 June 2019.
Presiding Judge David Sargsyan stated that the materials in the case were not yet in his possession and that the investigator had not appeared in court.
The next court hearing will take place at 2:00 pm on September 19.
September 05, 2019 at 17:37