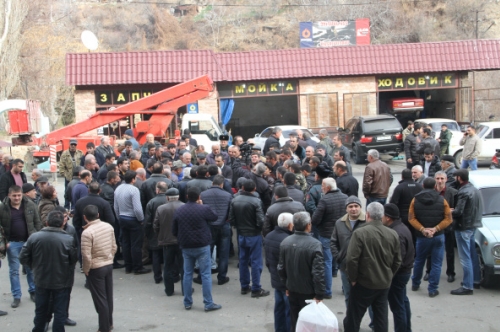 EcoLur

The escalated problem with the water in Meghri Town has taken Meghri residents out to the street. On 23 January they blocked Meghri-Yerevan interstate highway thus protesting against the construction of 'Meghri 2' SHPP by 'Green Power' Company inside the town on the Meghri River. They claim the construction of the SHPP will deprive them of their irrigation water, which is not sufficient even now. An arrangement was reached to meet the people in charge, and the meeting was held on 25 January. The meeting was initiated by Meghri Community Head Mkhitar Zaqaryan, when the residents blocked the highway.
The meeting can't be considered as constructive, as the residents were insisting on their viewpoints on having problems with irrigation. Mkhitar Zaqaryan assured that all the processes will be implemented within the law and the opinion of the population will be taken into consideration, as Meghri Community Head's Press Secretary Maryam Tsatryan said in her telephone conversation with EcoLur.

'We are ready to sign a memorandum of understanding with the Municipality, where we will give guarantees that the operation will be stopped,' 'Green Power' Company Deputy Director Hrachya Hovsepyan said at the end of the discussion to Meghri residents, who were leaving the hall in dissatisfaction.

'Green Power' Company is already operating 'Meghri-1' SHPP on the Meghri River. In 2017 the company was issued positive opinions for the construction of 'Meghri 2' SHPP on the Meghri River and 'Chqnagh' SHPP on the Tashtoun River.

Reminder: In May 2017 the Armenian Government granted privileges to 'Green Power' LLC for the construction of a small hydropower with 3.5 mW capacity in Meghri Community postponing the term of paying VAT for the imported good for 3 years.
Photo is taken from www.meghrinews.com web site.
18:55 January 26, 2018