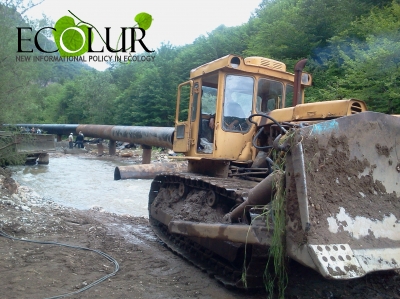 Voskan Sargsyan, Aravot
In Tavush regional investigation department a criminal case is under investigation with regard to damages caused to nature during "Khachaghbyur 2" small HPP construction by "Megaenergy" LLC in the neighboring area of Getahovit village in Ijevan region. The criminal case was instituted under Article 290 of the RA Criminal Code ("Spoilage of soil") and Part 2 of Article 296 ("Illegal tree and bush cutting in natural reservations").
With regard to the criminal case an investigation is under way. Since May, 2012 "Khachaghbyur 2" small HPP construction works have been done in Getahovit village without construction permission given by the community. Heavy machinery was used, many trees were felled and changes in soil layer were made during the construction.
15:58 December 01, 2014