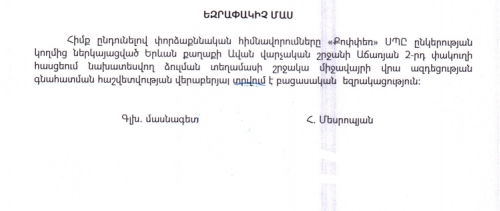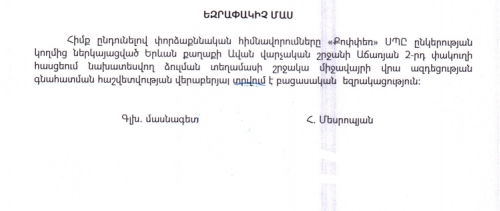 "Environmental Impact Assessment Center" SNCO of Environment Ministry has given a negative conclusion to the application for Environmental Impact Assessment (EIA) submitted by "Copper" LLC in Avan Administrative District in Yerevan.
Under the project, the company planned to receive 900 tons of copper and 900 tons of aluminum castings per year. The project envisages transportation of 50 kg of oil-covered rags to an urban landfill annually. The company also planned to organize the collection and storage of used lead accumulators. The production was planned to be located 600 m away from Avan salt mine.
As a result of the examination, the Ministry found that the appropriate distance from the settlements to the sanitary protection zone of the planned lead storage facility was not maintained, as the results of the diffusion calculation for carbon oxide and aluminum oxide emissions were not presented in the assessment report.
In addition, during the public hearing on the project on September 16 at the residence of the head of Avan administrative district, a large number of residents opposed the construction of a smelter in their district, whereas on September 24, Yerevan Municipality also presented its negative opinion on the project submitted by "Copper" LLC.
Reminder: on September 22, EcoLur Informational NGO sent a letter to Environmental Impact Assessment Center of RA Ministry of Environment presenting the possible substantiations for issuing a negative conclusion.
October 12, 2021 at 12:26