EcoLur
'Nati' neighborhood residents, Yeghvard Town, Kotayk Region, are beating an alarm signal: the oil-processing plan, which is being constructed by 'ArmOil' CJSC, will endanger their lives and health. The residents are demanding to stop the construction of the plant, which is located directly next to the residential houses and orchards.
'We are living on an atomic bomb, it doesn't matter whatever they will show us and however they convince us, we do realize what kind of threat the plant poses...our orchards, everything will be destroyed, if this plant explodes...there are holes left on the containers for air and gases, and if the vapour of these gases go out, nature and people will be harmed...these containers will be heated under the open sky and in the sun, where the vapour will go? We will breathe it in...our demand is either to eliminate it or to compensate us so as to leave from here,' 'Nati' neighborhood residents told EcoLur in their interview.
Oil-processing productions emit into atmosphere heavy metals, sulfur dioxide, nitrogen oxide, dioxine, carbon dioxide, carbonic acid, benzole, chlorine etc.
'This area was considered as an industrial land area of the third category not taking into consideration that there are 52 households in a distance of 15-20 meters, around 250 residents dealing with agricultural land areas and plowing dozens of hectares of area. We were not provided with any documents what kind of problems the plant can cause to our life and health. They ('ArmOil' CJSC) once said that it is harmful to the vegetation within a radius of 1 km, but it is not harmful to people. How can it happen to be harmful to vegetation and not harmful for people?' one of the residents Arthur Tumasyan said in his interview with EcoLur.
Resident Rafik Virabyan's plum orchard is located directly next to the plant. In his interview with EcoLur the owner said he had invested US $ 250,000 into the orchard. Rafik Virabyan sent a letter to Alfred Abedi, General Director of 'ArmOil' CJSC. 'The company director wrote a letter to me that no wastes will happen during the production. I have appraised my expenses and if any damage is caused to my orchard during the operation of the plant, I will sue them based on the director's letter and will demand to punish those who are guilty,' Rafik Virabyan said.
'Our rights have been violated – rights to life and health. Our right to property has been violated. If anyone wants to sell their houses, who will buy it? Our rights to information and participation in decision-making process have been violated. We haven't been informed from the beginning what is constructed and when we asked them, they hid the information.
During the previous authorities we were not sure that our complaint will be addressed, but now we trust our authorities and have organized this complaint-protest to draw the attention of the authorities to this problem and to have it solved. As everything is related to our health and life, the construction of the plant must definitely be stopped, there is no other way out,' Yeghvard resident Arthur Tumasyan said.
A criminal case has been initiated at Department for Protection of State Interests of RA Chief Prosecutor's Office based on the fact of the construction of an oil-processing plant in Yeghvard. It should be mentioned the ground of the criminal case was the fact that Yeghvard officials inserted obviously false information in the urban development documents kept in the community administrative body and to veil the need to carry out complex expert assessment of environmental impact set by legal acts to issue a soil development permit to "ArmOil" Company."
Despite the criminal case, EcoLur's camera fixed that the construction works of the plant are still in progress.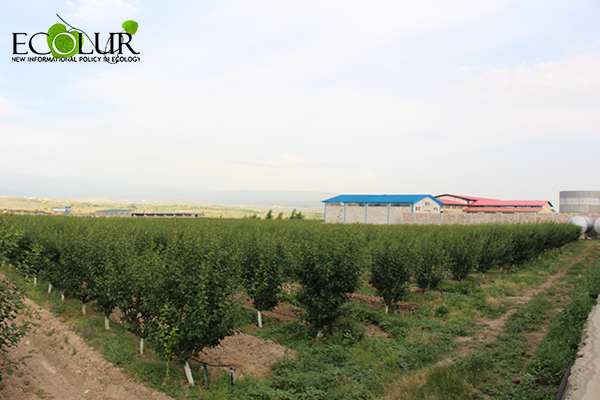 June 22, 2018 at 21:35