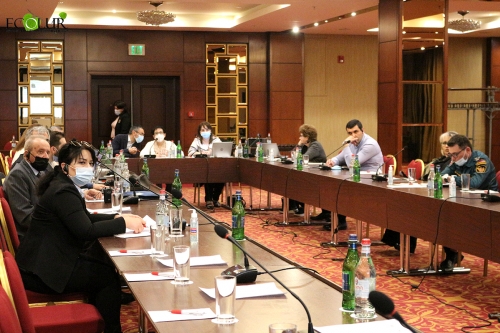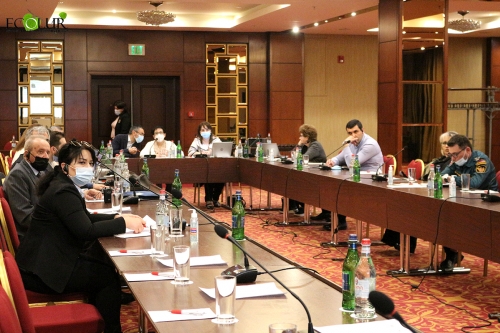 Research Findings Aimed at Modernization of Irrigation Norms in Context of Climate Change Presented Within the frameworks of UNDP/GCF "National Adaptation Plan (NAP) to advance medium and long-term adaptation planning in Armenia" project the research findings aimed at modernization of irrigation norms in context of climate change were presented.
During the workshop held in Yerevan on April 27, 2021, issues related to the modernization of irrigation norms in the context of climate change in Armenia and the development of a water adaptation program were raised in Yerevan.
UNDP-GCF Irrigation Norm Development and Irrigation Planning International Expert Stefan Galca touched upon the methodology of irrigation norms. He informed that the methodology of irrigation water norms for agricultural crops published in 1998 has been revised.
According to Stefan Galca, based on the results of the work carried out in Ararat Valley, the next step will be the ratification of crop coefficients according to field research. Referring to the results of the methodology, Galca said that if we try to reduce the amount of irrigation water, we can decide what savings can be made. "With saved water, we can increase irrigated areas if we reduce the amount of water supplied to actual irrigated areas," he said.
Gevorg Afyan, National Expert on Irrigation Planning, UNDP-GCF Program, presented the policy of modernization of irrigation norms for agricultural crops. Afyan stressed out that the goal of the policy is to modernize the irrigation regimes in Armenia, according to an international document.
Gevorg Afyan noted that as a result of the program, water savings will increase by 10-30% compared to the irrigation regimes introduced in the manual for 2007.
Yuri Javadyan, Chairman of Board of "Hayjrnakhagits Institute" CJSC, touched upon the issue of land disproportion, in particular, the lands given to the villagers at the time consisted of several plots of land, which hindered the full implementation of agricultural work.
During the discussion, it was suggested to consider the effects of climate change impact on the water user, the supplier, and the whole chain.
Inga Zarafyan, President of "EcoLur" Informational NGO, noted that institutional changes are also needed. The status of Water Committee should be increased, Agriculture Ministry should be recovered to its full powers. "But we cannot provide those solutions at this level," he said. In response, Gevorg Afyan responded that he also agreed with that idea.
"These are priority branches for Armenia. "The value of these organizations must be increased," he said.
Inga Zarafyan also suggested that Armenia's water resources be seriously assessed before taking any action. "For example, we do not have an accurate picture and assessment, the groundwater balance of Ararat Valley is disturbed. We can only calculate how much water is taken from the wells. There is also a problem with soil salinization," she stressed out.
To be continued…
You can get acquainted with the speeches here.
May 06, 2021 at 14:21