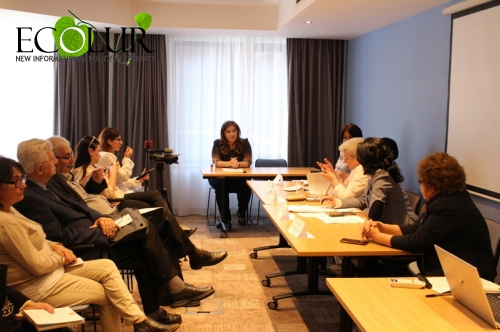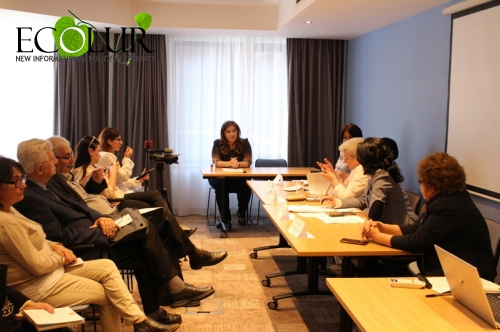 EcoLur
Upon the initiative of "EcoLur" Informational NGO, the Public Environmental Court tried the case "On Hazards Threatening Lake Sevan Having Strategic Significance for Armenia" based on the claim filed by Liana Asoyan, President of "Blejan" NGO supporting environment, society and business. The member judges were environmental lawyer Nazeli Vardanyan, ethnographer and publicist Hranush Kharatyan human rights defender Zaruhi Hovhannisyan, 'Territorial Development and Studies Center' NGO President Satik BAdeyan and President of 'EcoLur' Informational NGO Inga Zarafyan.
At the public trial, the participation and liability of the competent bodies of Armenia for the current situation having emerged as result of the violations of such laws as RA Law on Lake Sevan, RA Law on Approving Annual and Complex Programs for Recovery, Conservation, Reproduction and Use of Lake Sevan Ecosystem, RA Law on Specially Protected Areas of Nature, RA Law on Flora, RA Law on Fauna and RA Law on Environmental Impact Assessment and expertise. As a consequences of all these violations, the lake blossoming and waterlogging of littoral areas have become too frequent, endemic and imported fish reserves have deteriorated drastically, the quality properties of the freshwater have deteriorated etc.
Anahit Gevorgyan, President of "Martuni Women's Community Council" NGO, Head of Institute of Hydroecology and Ichthyology of nAS RA Evelina Ghukasyan, President of "Association for Sustainable Human Development" NGO Karine Danielyan, "Sevan National Park" Deputy Director Arayik Hunanyan, Armenian Environmental Front Civic Initiative Member Levon Galstyan, Sevan Trout Reserve Recovery and Fish Breeding Foundation Head Vardan Mamikonyan and Energy Expert Edvard Arzumanyan made speeches.
During the litigation, judges, Armenian Environmental Front Civic Initiative Member Anna Shahnazaryan and Water Committee representative, lawyer Hayk Sirunyan, "Khazer" Environmental and Cultural NGO representative Aram Gabrielyan asked questions. EcoLur's expert Roza Julhakyan presented her expert assessment.
The Public Environmental Court ruled that the ecosystem violations of Lake Sevan as an environmental, economic, social, scientific, cultural and historical, aesthetic, health, climate, recreation and religious value of strategic significance, which have disturbed the ecological safety of Armenia, have led to the elimination of the ecosystem, promoted the deterioration of the socio-economic state, as a result of which irreversible environmental and economic damage has been caused of extreme extents, to recognize these violations as a crime against nature, humanity and state.
The final wording of the verdict will be published within 10 business days
May 08, 2019 at 18:45