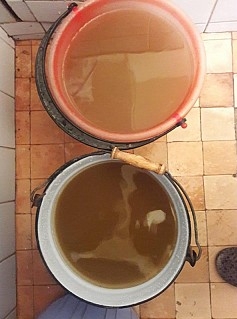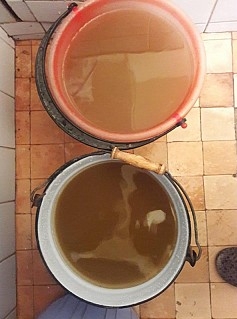 EcoLur

Brown water is flowing from the taps of the houses in Dilijan Community, Tavush Region, as Dilijan resident Azniv Hovhannisyan is beating an alarm signal to EcoLur. She mentioned that the tap water usually has yellow colour and smell, while the water has turned into brown colour in the course of snow melting and heavy precipitation.
"Tap water can't be used for drinking: when I just moved here, I drank it, but the next day all my family members had intestine infections expect for my baby who had drunk bottled water," Azniv Hovhannisyan said. She mentioned that on 12 April 2019 she applied in writing to Head of RA Health and Employment Inspection Body asking to pay attention to the problem with water in the community not having been solved for many years, as well as to initiate an administrative proceedings in order to check the quality of the drinking water and to supervise that "Veolia Jur" Company shall supply drinkable water of proper quality.
Head of Public Relations Department of "Veolia Jur" Company Murad Sargsyan informed EcoLur about this alarm signal, "The water cleaning station in Dilijan is very old and the cleaning capacity is weak. A huge amount of muddy water flows to the station in the course of active snow melting and heavy precipitation in the spring and fall months. The filters installed in the cleaning station can't entirely solve the problem with cleaning water. The previous year "Veolia Jur" Company introduced new technologies in the water cleaning station in Dilijan so as to ensure deep cleaning as much as possible and we haven't experienced any problems since December. Over the recent days, the melting is really active and there is a huge amount of muddy water flowing, which the station is not able to clean. Water cut-offs are conditioned with this fact: we think it is better not to supply any water than endanger people's health. We are trying to organize a 4-hour-long water supply schedule in Dilijan Town," Murad Sargsyan mentioned. He mentioned that a new water cleaning station should be constructed in Dilijan in order to solve this problem radically. The station must be constructed by the Armenian party while the investment funds of "Veolia Jur" Company should be directed at the operation, maintenance, and repair of the system rented by the company.
Dilijan Municipality informed Azniv Hovhannisyan that they had applied to "Veolia Jur" Company with regard to these problems and asked for clarifications: "If it turns out that the company can't solve the problem with its own forces for the construction of a new filtering station, they will apply to the government," Azniv Hovhannisyan said.


April 17, 2019 at 19:29