EcoLur
At the meeting on 2 February 2017 with the Minister of Economic Development and Investments of Armenia Suren Karayan, President, CEO and Director of "Lydian International" Ltd Howard Stevenson announced that 'Lydian Armenia' will issue the first gold bar in March 2018.
Amulsar mining infrastructures are intensively developing in Jermuk Community, Vayots Dzor Region, in Jermuk resort town and Gndevaz residential area.
Progress of Heap Leach Facility Construction in Gndevaz (Cyanic Workshop)
In the spring of 2016, the apricot orchards of Gndevaz in the area of 134 ha were felled down for the construction of the heap leach facility in a direct distance of 500 m from the residential houses in Gndevaz.
'The heap leach facility is 1 km far from the village, in the sanitary zone of the village… Our orchards are located at a distance of 100-200 meters from the heap leach facility. Gndevaz is famous for its apricot orchards. It's natural when 'Lydian' will start its works, the apricot harvest can't be realized, as the dust and other chemical substances will residue on our orchards...They are going to use 1000 tons of hydrochloric acid and sodium cyanide, one drop is enough to kill a person. Their documents say that 4 million tons of cyanic solution should be made to fill onto the ore and to extract gold and silver. Besides, acidic drainage will emerge for hundreds of years after their activities, which will continuously endanger this region. The water emerged due to snow and rain in the area of 200 ha, which will be saturated with dozens of tons of heavy metals, will flow into the Arpa River, which is located in a distance of several hundred meters from the HLF. The Arpa River supplies water to around 80% of the residential areas in Vayots Dzor. The harvest irrigated with this water will have its negative effect. I think our apricot will become completely unusable and we won't even have a right to use this harvest...They say they won't allow the polluted water to flow somewhere for these 10 years, they will clean them and then fill into the Arpa River. Naturally, around several hundred million cum water will be generated during these 10 years. As the company says, they will build two small reservoirs for the accumulation of 160,000 and 200,000 cum water. So much fluid can't be placed there... Even our scientists say Gndevaz may technically get out of here when they start their main activities,' Gndevaz resident Mihrdat Nersisyan said.
Mihrdat Nersisyan, Gndevaz Resident

Gndevaz Residential Area
'In August 2017, when there were too many winds, you couldn't see any person in the dust of the heap leach facility. People are already concerned if there is so much dust when the main activities have not been launched, what will happen when they start?' Gndevaz residents are concerned.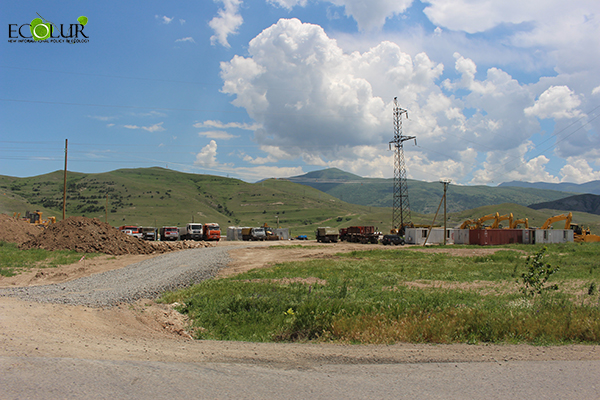 The area of the heap leach facility is almost ready in the winter of 2018.
Jermuk Resort Town

Jermuk is a resort town, which has been recovering the reputation of its resort town due to its unique 'Jermuk' mineral water, developed resort town infrastructures and preserved and clean environment. Jermuk Town with a population of 11442 residents and adjacent villages mainly live on the resort tourism and have high professional skills in this sector. The development of Amulsar infrastructures has started in Jermuk.
'Lydian Armenia' Company has rented Guesthouse № 1 (a.k.a 'Moscow') for the accommodation of its employees.
According to 'Lydian' project, the company employees will be accommodated in some hotels in Jermuk. The rent of 250-300 rooms will, to a certain extent, replace tourism activity effectively replacing tourists' dollars with project dollars.

'I am deeply concerned with the consequences of mining. Dust is already overwhelming, especially in the summer. I don't want this mine to open and operate. I am against Jermuk turning into a workers' town. There were a few holidaymakers this summer, the movement was little. Jermuk resort town is already disappearing. In the past, all the people in the street of the drinking hall were holidaymakers, this year they were too few.'

…The right to health will be violated. We know there is uranium in the mine, which is radiation. Jermuk won't definitely operate as a resort town. It's even dangerous for a resident to live in this town. If there are heavy metals and radiation even in the drinking water, what to say about mineral water?

…Villagers will anyway deal with agriculture, where the result is very important. If they deal with agriculture in the polluted area, everything will be polluted. If the whole nature, water resources, and soil is polluted, everybody who can afford will leave here. Whoever cannot afford leaving here, they will work in the polluted area and eat everything polluted.

I would like our nature to remain clean and healthy. We would like our town to remain as it is now and as our ancestors have established it for us, so as we can leave it to our children and grandchildren in the way it was left to us by our ancestors,' Jermuk residents said.
16:22 February 09, 2018